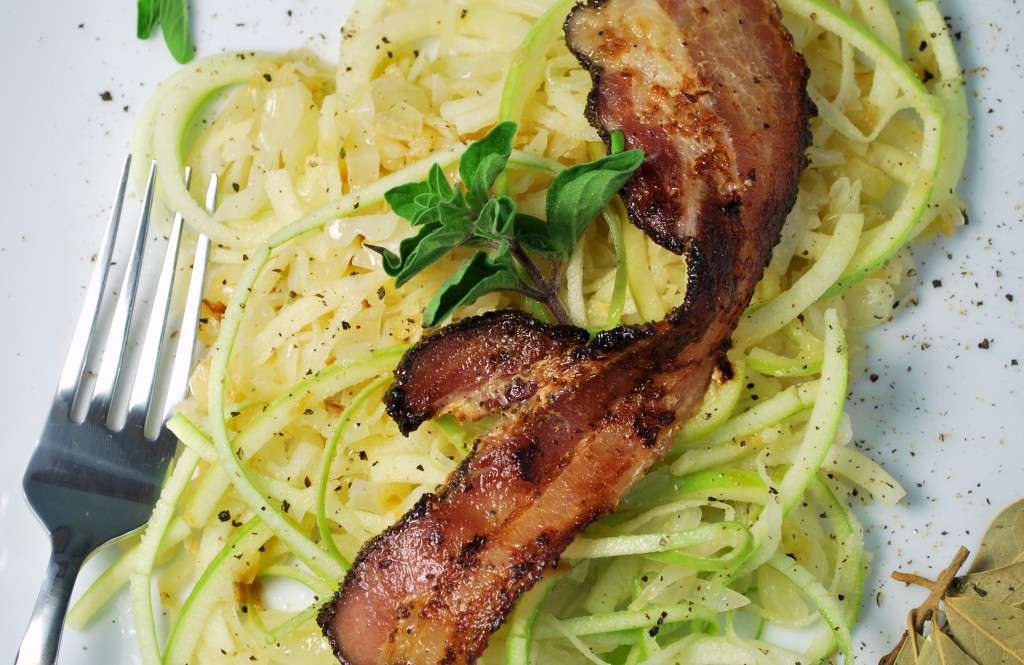 This hearty side dish has its roots in pioneer days when cabbages were the only fresh vegetable available and dried apples the only fruit. This savory sauté would be right at home on a Thanksgiving table.
Prep time: 30 min.
Serves: 4.
Calories: 41.3 Sodium: 1,318 mg. Dietary fiber: 3.6 g. Total fat: 23.7 g. Total carbs: 26.4 g. Protein: 21.6 g.
Ingredients:
……………………………………………
"RIBBONS"
2 tart apples
½ pound bacon
1 medium cabbage head
1 large yellow onion, coarsely chopped
1 cup water
1-2 Tbsp. lemon juice
1 small bay leaf
Freshly ground pepper
……………………………………………
Instructions:
Fry the bacon in a heavy skillet. Drain bacon and set aside.
Reserve 2 Tbsp. bacon fat in the skillet.
Shred the cabbage.
Place the chopped onion in the skillet.
Stir to coat with the bacon fat and then sauté over medium heat until the onion is translucent.
Add the cabbage and the bay leaf.
Cover and reduce heat.
Simmer for 20-30 minutes until the cabbage is tender but still a bit crisp.
While simmering the cabbage, spiralize the apples into ribbons. Squeeze 1-2 Tbsp. of fresh lemon juice over the apple spirals, and set aside.
When the cabbage is ready, remove bay leaf, and mix in the apple noodles.
Place the hot mixture in dish and garnish with bacon.
There's no need to add salt to this dish; the bacon fat will supply plenty of sodium.
 Note:  Never pour bacon fat down the sink. It clogs your (and your community's) pipes!