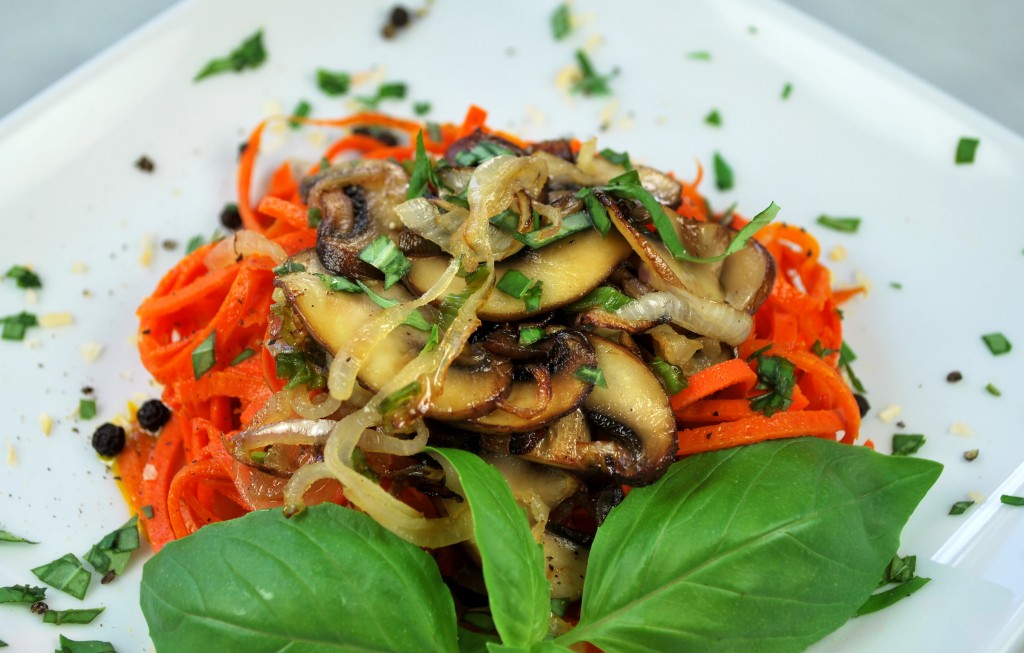 This dish is both colourful and hearty, and can do double-duty as a vegetarian entrée for one or as a show-stopping starter for two.
Prep time:  15-20 minutes
Serves: 2
Calories: 122. Sodium: 155 mg. Dietary fiber: 3.0 g. Total fat: 7.1 g. Total carbs: 14.2 g. Protein: 2.2 g.
Ingredients:
……………………………………………
"PASTA"
3 large carrots
¾ cup chopped mushrooms, any kind
2 Tbsp. shallot, chopped (may substitute ¼ yellow onion, chopped)
3 tsp. olive oil
3/4 tsp. dried basil
2 large garlic cloves, minced
Pinch black pepper
Pinch salt
……………………………………………
Instructions:
Make "pasta" strands out of the carrots with your Veggetti. Set aside.
Add onion (or shallots) and garlic to heated oil in medium-size skillet and sauté for 2-3 minutes.
Add the mushrooms to the pan and heat for 6-7 minutes or until the mushroom "liquid" has evaporated. Season with salt and pepper.
Add the carrot "pasta" and mix well. Cook for another 5-10 minutes until the pasta is the texture you prefer.