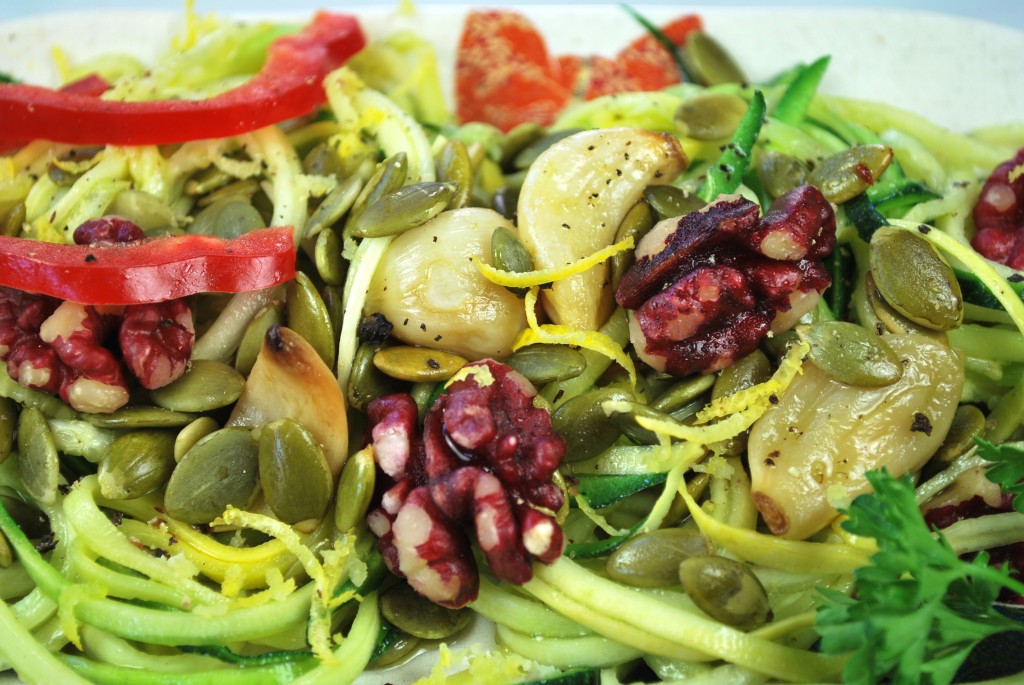 Tagliatelle are simply long, flat strands of "pasta" that resemble fettuccine. Broader, flatter noodles mean more surface area for soaking up sauce and this simple sauce is so savory, you'll be tempted to lick your plate clean!
Prep time: 10 minutes
Serves: 2.
Calories: 334. Sodium: 128 mg. Dietary fiber: 7.6 g. Total fat: 26.0 g. Total carbs: 23.0 g. Protein: 8.1 g.
Ingredients:
……………………………………………
"PASTA"
3 large zucchinis
3 Tbsp. olive oil
1/3 cup sunflower seeds (or raw, unsalted almonds)
3 cloves garlic crushed
Pinch of salt
Zest from ½ lemon
½ tsp black pepper
……………………………………………
Instructions:
Use your Veggetti cutter to make wide pasta ribbons out of the zucchinis. Heat or cook as you prefer.
Put pepper, lemon zest, olive oil, sunflower seeds, salt and garlic in blender and process until smooth.
Serve "pasta" on a plate and drizzle blended sauce over it.