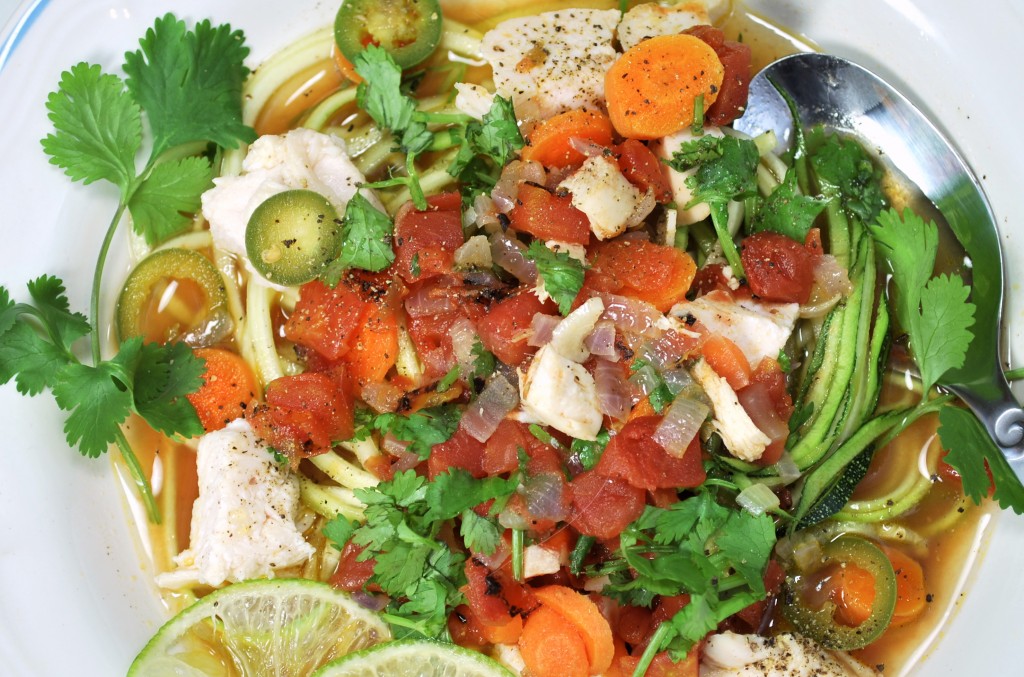 Our first post for the New Year! What's better than a nice hot soup when the weather cools down? This spicy, tomato-based soup is another international variation of chicken noodle soup. Blast away your runny nose with this healthy dose of sunny Mexico
Prep time: 25-30 minutes
Serves: 6.
Calories: 476. Sodium: 1,300 mg. Dietary fiber: 2.1 g. Total fat: 26.9 g. Total carbs: 47.5 g. Protein: 21.4 g.
Ingredients:
……………………………………………
2 cups zucchini noodles, spaghetti circles cut
6 cups chicken stock
2 14-oz. cans roasted tomatoes
4 boneless, skinless chicken breasts
5 large garlic cloves, minced
1 yellow onion, chopped
1 large bunch cilantro, chopped (approximately 1 cup)
1 jalapeno pepper, seeded and minced
2 medium carrots, chopped into "coins"
Juice of 2 limes
2 Tbsp. olive oil
1 tsp. cumin
1 tsp. turmeric
1 tsp. black pepper
……………………………………………
Instructions:
In a large stock pot, heat the onion, carrots, and garlic in the oil until the onions are translucent.
Add the canned tomatoes (juice and all), the chicken stock and the chicken pieces. Bring to a boil and cook until the chicken is cooked through. Remove the chicken from the pot and set aside to cool.
Reduce to a simmer and cover. When the chicken is cool, shred it and return it to the pot.
Add the noodles, the spices, and the line juice. Continue to simmer for another 30 seconds, then remove from heat.
Serve hot with fresh cilantro garnish!