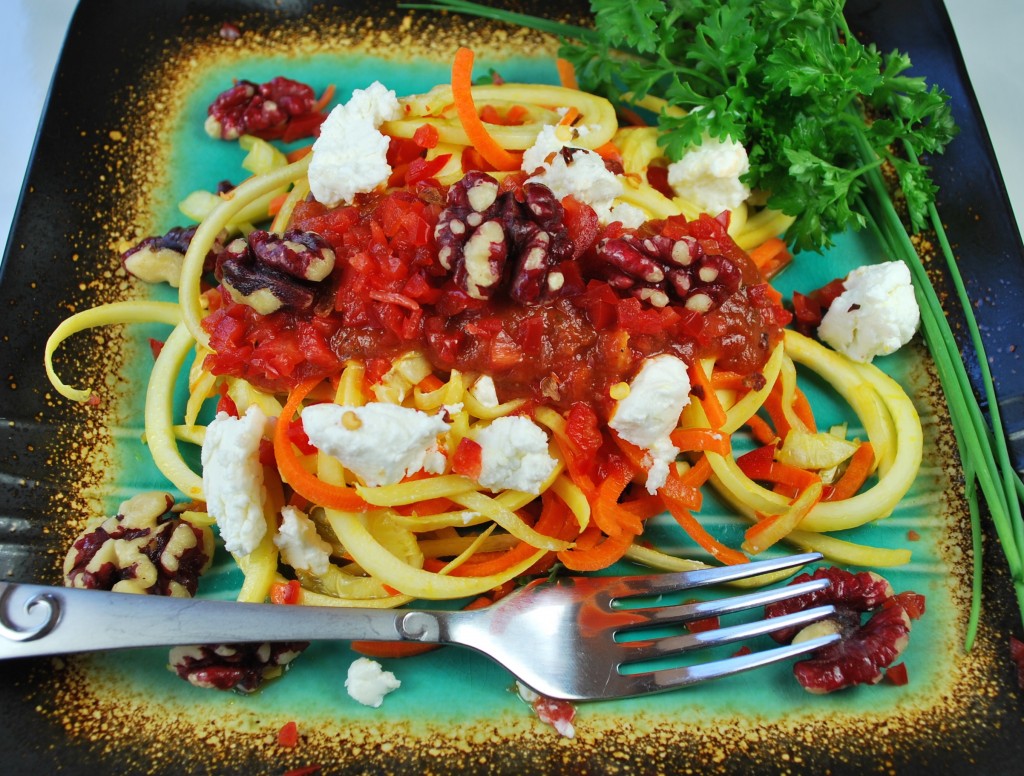 This blend of flavors is Mediterranean to the max and a satisfying mixture of creamy and crunchy textures.
Prep Time: 15 m
Serves: 2–4
Calories: 278, Sodium: 199 mg, Dietary Fiber: 4.2 g, Total Fat: 21.2 g, Total Carbs: 14.1 g, Protein: 12.0 g
Ingredients:
……………………………………………
"PASTA"
2 large zucchinis
1 large carrot
SAUCE
3 oz. goat cheese, crumbled
2 roasted red peppers, drained and chopped
1/3 cup toasted, chopped walnuts
2 garlic cloves, sliced thinly
2 Tbsp. olive oil
2 Tbsp. tomato paste
1 Tbsp. fresh thyme, chopped
¼ onion (chopped)
½ tsp. red pepper flakes
½-1 cup water as necessary
……………………………………………
Instructions:
Make "pasta" strands out of the zucchini and carrots with your Veggetti. Heat or cook as you prefer.
Heat the olive oil in a large skillet. Sauté the onion and garlic until they are soft.
Stir in the chopped red peppers and tomato paste. Cook for 2-4 minutes until the sauce has thickened.
Pour the cooked mixture into a food processor or blender and process until smooth.
Return the liquid to the skillet and add the thyme and red pepper flakes.
Cook over medium heat for about a minute to blend flavors.
Add the "pasta" to the liquid and stir until the sauce coats the pasta. If it's too thick, add water, a little at a time, until the sauce is the consistency you want.
Stir in the goat cheese and walnuts.
Serve hot.