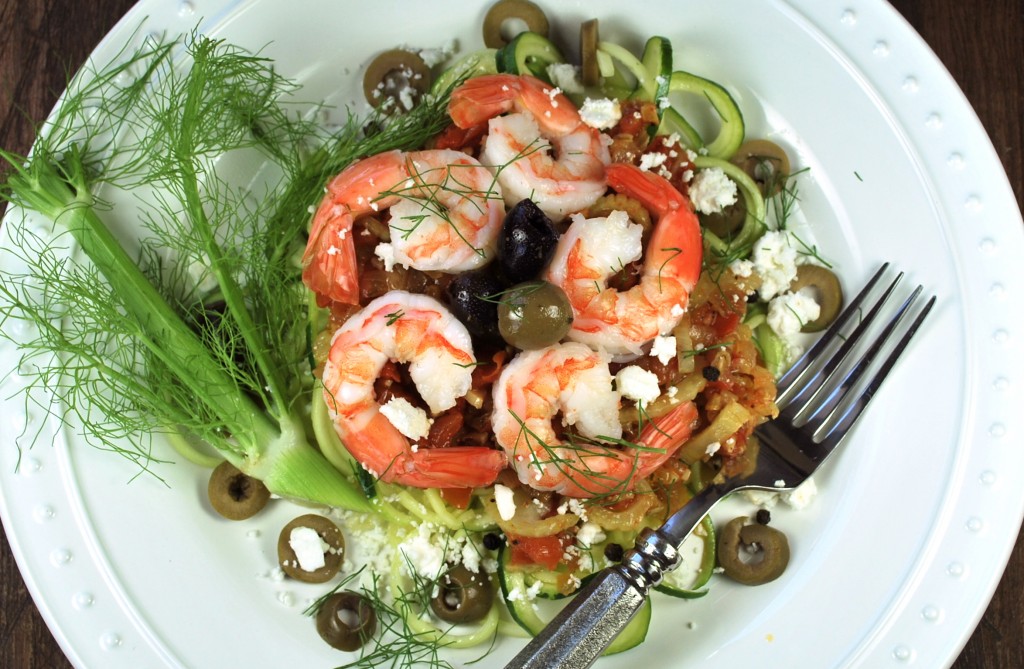 SHRIMP, FETA, OLIVES AND ZUCCHINI PASTA
Ingredients:
……………………………………………
"PASTA"
3 large zucchinis
SAUCE
½ lb. medium shrimp (peeled and deveined)
1 garlic clove (minced)
2 tbsp olive oil
Salt (pinch to taste)
Black pepper (to taste)
12 oz. ounce crushed tomatoes (canned is okay)
½ onion (chopped)
½ head fennel (cored and thinly sliced)
¼ cup green olives (pitted and chopped)
¼ cup white wine
1 tbsp oregano
¼ cup feta (crumbled)
……………………………………………
Instructions:
Make "pasta" strands out of the zucchini with your Veggetti. Blanche or boil to taste. Drain and save 1 cup of the water for later.

Heat 1 tbsp olive oil in large pan over medium heat and add shrimp. Cook for 3 to 5 minutes, or until they are pink in the middle. Put shrimp on plate and set aside.
Put the remaining oil in the pan and add onion, garlic and fennel, salting and peppering to taste. Cook for 5 minutes or until brown.
Stir in the tomatoes and wine and simmer for 5 to 7 minutes.
Next, add the olives, pasta and shrimp, along with the extra cup of water that you saved earlier. Heat and stir for 3 to 5 minutes, then serve with oregano and feta as toppings.