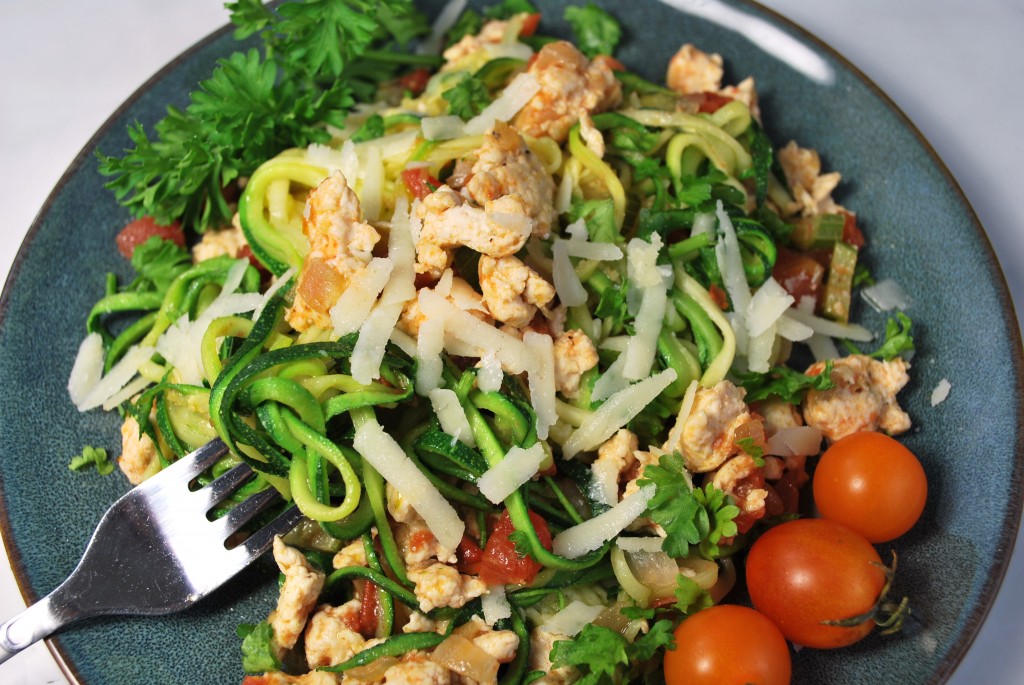 Lean protein and non-starchy vegetables are an unbeatable combination when you're trying to lose weight. This simple, classic "spaghetti" with meat sauce is so flavorful you won't even notice you're getting a double-dose of vegetables on your plate.
Prep time: 25-35 minutes
Serves: 2.
Calories: 466. Sodium: 1,092 mg. Dietary fiber: 11.3 g. Total fat: 17.4 g. Total carbs: 35.2 g. Protein: 44.3 g.
Ingredients: [ weight loss ]
……………………………………………
"PASTA"
2 large zucchinis
1 large carrot
½ lb. lean turkey or beef
1 12-oz. can crushed tomatoes
1 medium yellow onion, diced
1 Small celery stalk, diced
2 garlic cloves, crushed
1 Tbsp. Italian seasoning
1 Tbsp. olive oil
½ tsp salt
Parmesan cheese for topping
……………………………………………
Instructions:
Using your Veggetti cutter, turn the zucchinis and carrot into narrow pasta strands. Heat or cook to your preferences.
In a large saucepan, sauté the onion and celery until the onion begins to get brown (5-9 minutes).
Stir in the Italian seasoning and the garlic and cook for another minute.
Push the vegetables to the side and add the ground beef. Cook until the meat is well done.
Add the tomatoes and simmer until sauce is thickened. Adjust seasoning and serve over warmed "pasta."
Garnish with Parmesan cheese.