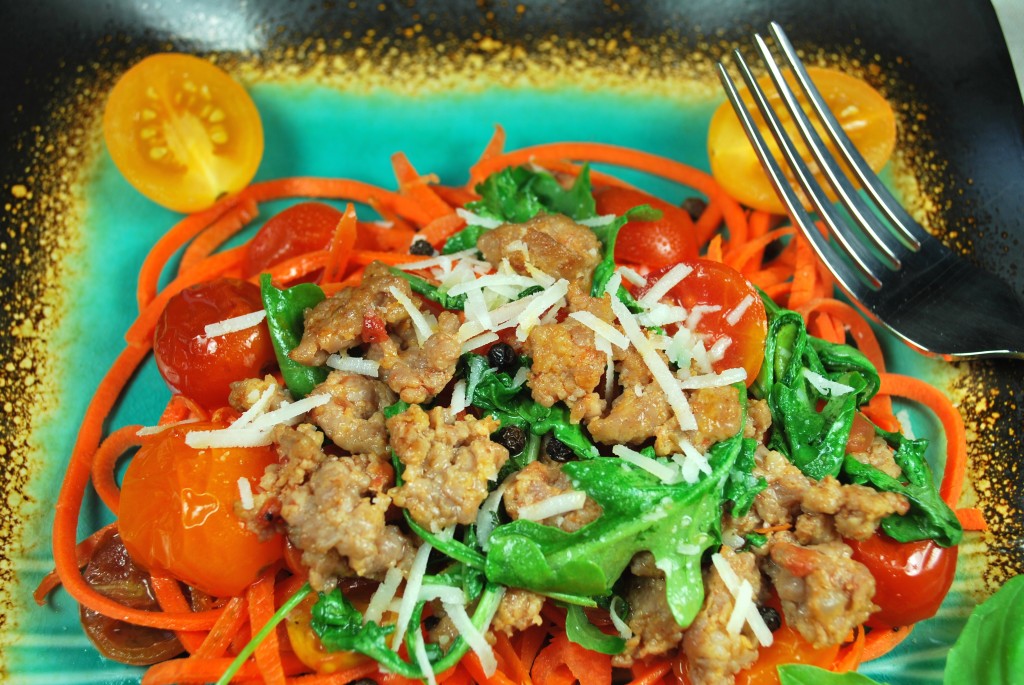 This is a meat sauce that shares top billing with tomatoes and greens. If you're craving the taste of a sausage and peppers sub, substitute 2 diced Bell peppers and a chopped yellow onion for the arugula and enjoy.
Prep time: 30 minutes
Serves: 4.
Calories: 233. Sodium: 856 mg. Dietary fiber: 2.6 g. Total fat: 11.3 g. Total carbs: 8.2 g. Protein: 27.3 g.
Ingredients: [ weight loss ]
……………………………………………
"PASTA"
2 large zucchinis
1pound hot Italian turkey sausage
1 Tbsp. olive oil
2 garlic cloves (minced)
1 cup cherry tomatoes, halved
3 cups arugula or spinach leaves
¼  cup Pecorino Romano or Parmesan cheese, shredded
1 tsp black pepper
……………………………………………
Instructions:
Using your Veggetti cutter, turn the zucchinis into narrow pasta strands. Heat or cook to your preferences.
Brown sausage in the bottom of a large saucepan over medium heat until it is completely well-done. If bulk Italian sausage is not available in your grocery store, substitute, 4 links of Italian sausage with the casings removed.
Stir in the arugula, tomatoes and garlic and cook until the greens are limp and the tomatoes start to break down, about 3-5 minutes. Cover and remove from heat.
Mix the cheese with the "pasta" then add the meat sauce.