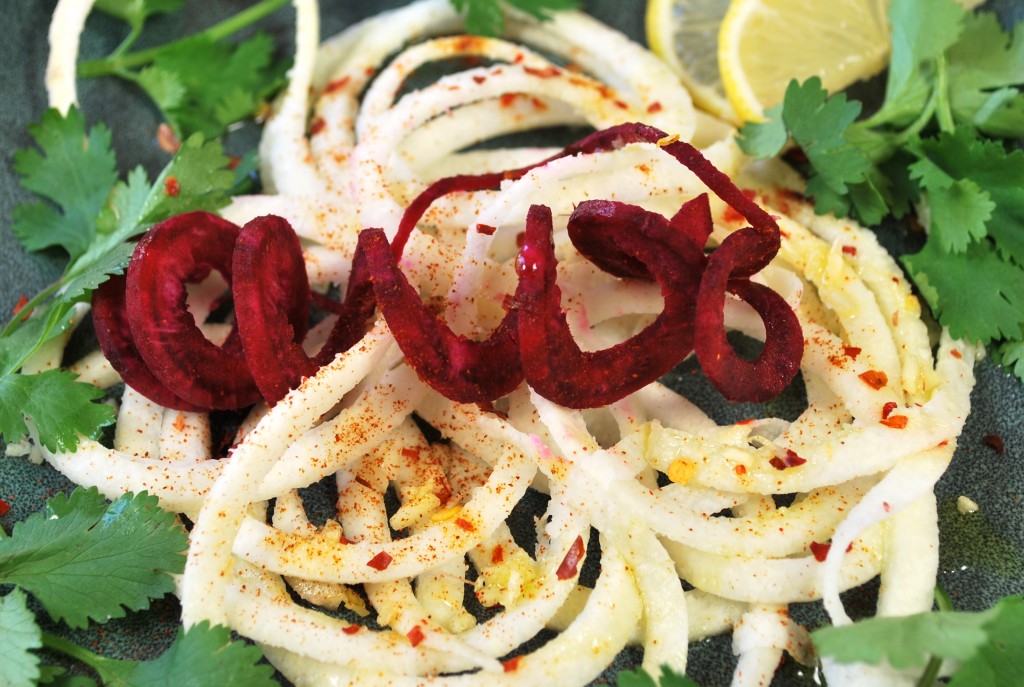 Jicama (also known as the "Mexican turnip") has a taste and texture reminiscent of a crisp apple or raw potato, and its mild taste makes it a versatile addition to all kinds of salads. Here the vegetable takes center stage with a spicy dressing that replicates the flavors of a popular street snack—jicama slices sprinkled with chili powder and lime juice.
Prep time: 5-10 min.
Serves: 2.
Calories: 477. Sodium: 34 mg. Dietary fiber: 32.7 g. Total fat: 25.9 g. Total carbs: 60.9 g. Protein: 5.0 g.
Ingredients:
……………………………………………
"RIBBONS"
2 medium jicama (about the size of a yellow onion)
3 limes, juiced (about ¼ cup)
1/4 cup olive oil (four tsp.)
½ tsp. chili powder
1 large garlic clove, minced
Dash red pepper flakes (optional)
……………………………………………
Instructions:
Remove the jicama's papery outer "skin" and slice using the "thick-strand" option on your Veggetti or Paderno slicer.
Set aside in a medium bowl.
Combine other ingredients and pour over jicama.
Toss to mix the dressing evenly.
Serve immediately.